Le Tribut de Zamora
Bru Zane Label
CD-book
French Opera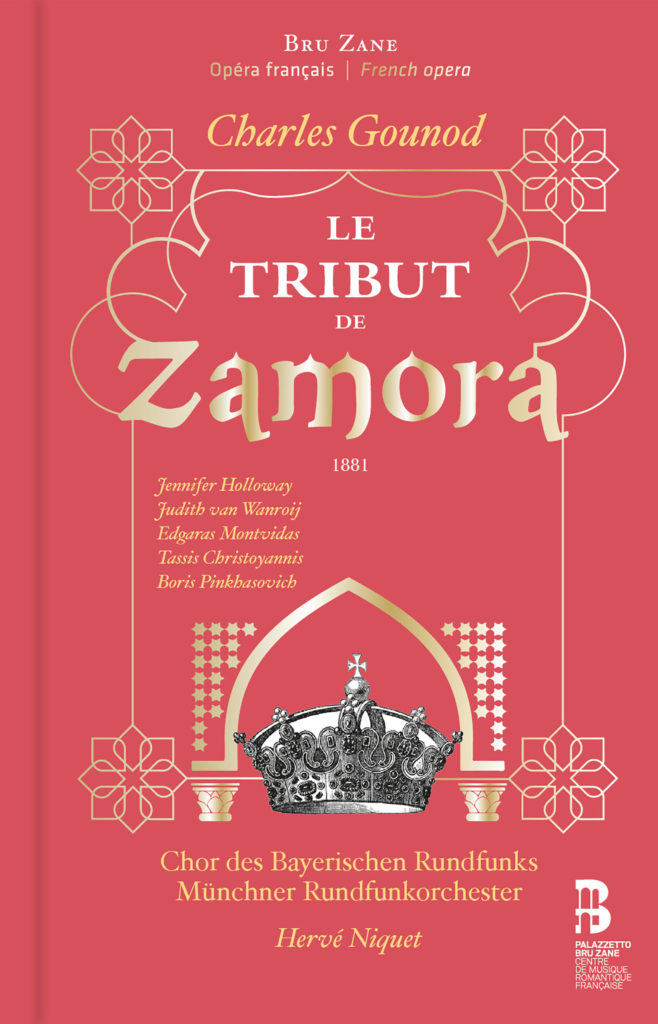 CHOR DES BAYERISCHEN RUNDFUNKS MÜNCHNER RUNDFUNKORCHESTER Hervé Niquet conductor with Jennifer Holloway, Judith van Wanroij, Edgaras Montvidas, Tassis Christoyannis, Boris Pinkhasovich, Juliette Mars, Artavazd Sargsyan, Jérôme Boutillier
'French opera' series | Bru Zane
Volume 18 | BZ 1033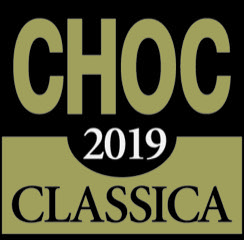 After Polyeucte (1878), Gounod tackled the operatic genre for the last time in 1881 with what is probably his most ambitious work, Le Tribut de Zamora. The action takes place in ninth-century Spain – from Act Two onwards, on 'a picturesque site on the banks of the Guadalquivir before Córdoba'. Here Gounod – finally noted more for his neoclassical pastiches (Le Médecin malgré lui and Cinq-Mars) and his ardent Romanticism (Faust and Roméo et Juliette) – was given an opportunity to display his talents as an orchestrator and colourist in an exotic setting. He produced an epic in the tradition of French grand opéra, with numerous ensembles and showpiece airs. Despite an unequivocal success on its first run, despite the stirring national anthem 'Debout! Enfants de l'Ibérie', Le Tribut de Zamora sank into oblivion within a few short years. We can now appreciate in this opera precisely what certain detractors complained of at the time: the fact that we meet here once again the irresistible lyricism of Faust and Roméo et Juliette.
Contents of the book
Gérard Condé, Gounod's last opera
Gunther Braam, The reception of 'Le Tribut de Zamora'
Rémy Campos, An opera for the eyes
Pierre Sérié, So near and yet so far: Spain and its painters in nineteenth-century France
Synopsis
Libretto
Update Required
To play the media you will need to either update your browser to a recent version or update your
Flash plugin
.
CD 1
Act I
1- Prélude
2- Chœur : Au vieux pays de Cantabrie (Chœur)
3- Aubade : Ô blanc bouquet de l'épousée (Xaïma, Manoël)
4- Scène : Qu'entends-je ? (Xaïma, Manoël, Ben-Saïd, Chœur)
5- Vision et Arioso : La torche du vainqueur brûlait la ville prise (Xaïma, Ben-Saïd)
6- Scène : Le seigneur sarrasin parle à ma fiancée (Xaïma, Manoël, Ben-Saïd)
7- Duo : Pourquoi ce langage odieux ? (Xaïma, Manoël)
8- Arioso : Ce Sarrasin disait que mon seigneur et maître (Xaïma, Manoël)
9- Chœur : Entendez-vous la cloche ailée (Chœur)
10- Scène : Que la cloche se taise et qu'on ferme l'église (L'Alcade, Ben-Saïd, Le Roi, Chœur)
11- Arioso et Scène : Vous osez proférer des menaces (Ben-Saïd, L'Alcade, Manoël, Le Roi, Chœur)
12- Finale : Voici le premier nom (Iglésia, L'Alcade, Le Roi, Chœur)
13- Finale (suite) : Xaïma Ferreras ! (Xaïma, Manoël, L'Alcade, Ben-Saïd, Le Roi, Chœur)
Act II
14- Chœur : Fêtons, fêtons l'anniversaire (Chœur)
15- Kasidah : La flèche siffle (Hadjar, Un Soldat arabe, Chœur)
16- Scène : Assez ! je ne veux pas qu'on chante (Hermosa, Hadjar, Chœur)
17- Air : Que me dis-tu ? Qu'il faut encore te suivre ? (Hermosa)
18- Scène, Marche et Chœur : Ah ! voici le convoi d'Espagne (Hadjar, Chœur)
19- Scène : Je connais cet homme, il me semble (Manoël, Hadjar)
20- Récitatif : Notre très clément souverain (Le Cadi)
21- Marche des captives
22- Scène et Arioso : Seule en ce lieu (Xaïma, Hermosa)
23- Finale : Oh ! la pauvre femme (Xaïma, Manoël, Le Cadi, Ben-Saïd, Hadjar, Un Soldat arabe, Chœur)
24- Morceau d'ensemble : L'ange qui chaque nuit (Xaïma, Hermosa, Iglésia, Manoël, Le Cadi, Ben-Saïd, Hadjar, Un Soldat arabe, Chœur)
25- Finale (suite) : À cents dinars d'or (Xaïma, Manoël, Le Cadi, Ben-Saïd, Hadjar, Chœur)
CD 2
Act III
1- Scène : Écoutez ! écoutez les clairons d'or ! (Ben-Saïd, Chœur)
2- Introduction et Barcarolle : Ma belle, effleurons de nos rames (Une Jeune Esclave)
3- Danse grecque
4- Danse espagnole
5- Romance : Je m'efforce en vain de te plaire ! (Ben-Saïd)
6- Trio : Mon frère ! Il faut qu'Hadjar (Xaïma, Manoël, Ben-Saïd, Hadjar)
7- Scène : Sa dernière heure décidera mon sort ! (Xaïma, Manoël, Ben-Saïd)
8- Morceau d'ensemble : Un pardon de ta bouche altière ! (Xaïma, Manoël, Ben-Saïd, Hadjar, Chœur)
9- Scène : À la pitié pour moi, qui souffre tant (Xaïma, Ben-Saïd)
10- Duo : De sa mort qui donc parle ici ? (Xaïma, Hermosa)
11- Duo (suite) : Que s'est-il donc passé ? (Xaïma, Hermosa)
Act IV
12- Introduction et Cavatine : J'ai pu, la nuit venue (Manoël)
13- Scène et Duo : Manoël ! Sans moi tu veux mourir ? (Xaïma, Manoël)
14- Scène, Romance et Trio : Malheureux ! (Xaïma, Hermosa, Manoël)
15- Trio (suite) : Mais sans mourir (Xaïma, Hermosa, Manoël)
16- Scène et Cavatine : Lui ! Manoël ! Encore ! (Xaïma, Ben-Saïd)
17- Duo : Tu mens, traître ! (Xaïma, Ben-Saïd)
18- Scène : Tu ne passeras pas ! (Xaïma, Hermosa, Ben-Saïd)
19- Cantabile et Scène : Te la rendre ! (Hermosa, Ben-Saïd, Hadjar)
20- Scène finale : Non ! N'appelle personne (Xaïma, Hermosa, Manoël, Ben-Saïd, Hadjar, Chœur)