Ariane
Bru Zane Label
CD-book
French Opera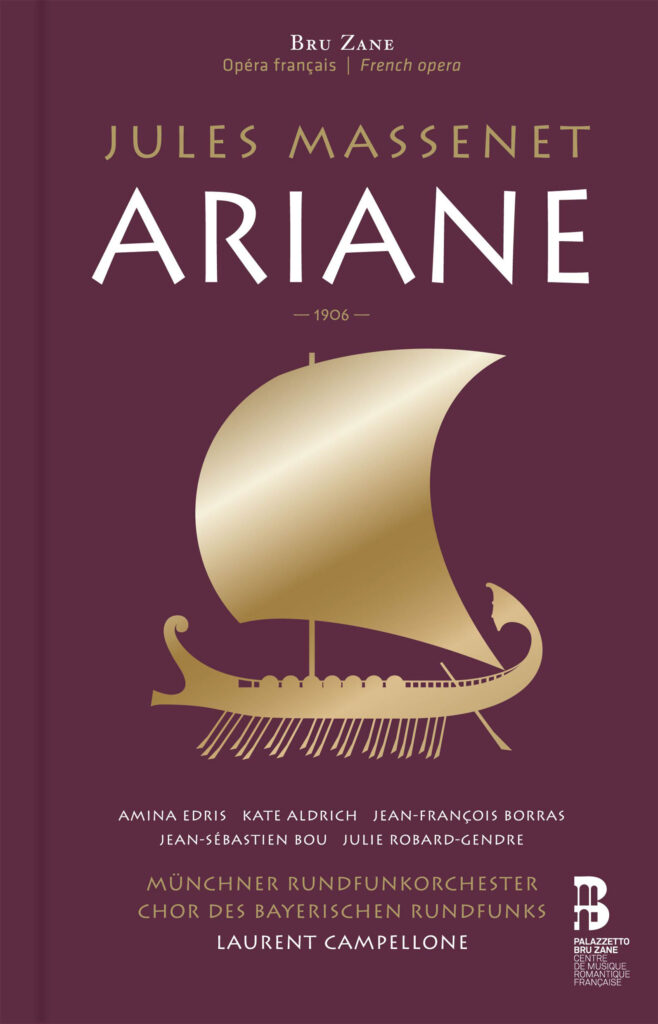 Laurent Campellone conductor
MÜNCHNER RUNDFUNKORCHESTER
CHOR DES BAYERISCHEN RUNDFUNKS

with Amina Edris, Kate Aldrich, Jean-François Borras, Jean-Sébastien Bou,
Julie Robard-Gendre, Marianne Croux,
Judith Van Wanroij, Yoann Dubruque,
Philippe Estèphe
'French opera' series vol. 37 | BZ 1053
World premiere recording
It would be difficult to find a simpler and more poignant subject," admitted Jules Massenet while working on Ariane, a vast score in 5 acts which premiered at the Paris Opéra in October 1906. Combining ancient drama with a Symbolist poem, the libretto violently pits against each other two sisters, Phèdre and Ariane, both of whom are in love with Thésée.
This spectacular opera narrates the fight against the Minotaur, shows a boat battered by the raging seas, and even transports the audience to the Underworld where Perséphone is queen. Despite its flamboyant orchestration, impressive staging and triumphant premiere, Ariane had remained until now one of the very few operas by Massenet never to have been recorded.
In the title role, the young Egyptian soprano Amina Edris gives a performance full of fire and passion, and she is ably supported by a cast well-versed in the specificities of the French style. The Bavarian Radio Choir provides the choruses in the epic scenes, and the Munich Radio Orchestra is conducted by a great champion of Massenet's works, Laurent Campellone.

Recording at the Prinzregententheater (Munich) on 27 and 29 January 2023.
Publisher Heugel.





Sommario del libro
Alexandre Dratwicki, When the thread breaks
Jean-Christophe Branger, Ancient Greece revived
Michela Niccolai, Ariane's galley
Gabriel Fauré, A few remarks on the premiere
Two interviews with Massenet
Synopsis
Libretto
Cast - Tracklist
Update Required
To play the media you will need to either update your browser to a recent version or update your
Flash plugin
.
CD 1

Act I
01 Prélude et Scène : Vers les rives blanches (Les Sirènes, Matelots, Pirithoüs)
02 Scène : Quoi ! dans le Labyrinthe énorme (Pirithoüs, Les Sirènes)
03 Air : Délices de mon cœur violent (Pirithoüs, Matelots, Les Sirènes)
04 Scène : Ô frêle corps, trop faible, hélas ! (Ariane)
05 Air : Chère Cypris, Cypris compatissante (Ariane)
06 Entrée de Phèdre : Ariane ! (Phèdre, Ariane)
07 Arioso et Scène : La fine grâce de sa force (Ariane, Phèdre)
08 Duo : Cypris ! Heureuse qui suivit (Phèdre, Ariane)
09 Combat du Minotaure : À l'aide ! Roi Thésée (Ariane, Phèdre, Pirithoüs, Les Enfants)
10 Scène avec Chœur : Libres ! (Ariane, Eunoé, Chromis, Pirithoüs, Éphèbes, Vierges)
11 Entrée de Thésée : Certes nous irons (Thésée, Phèdre)
12 Air et Scène : Ariane, ô bouche fleurie (Thésée, Ariane)
13 Scène finale : Que les fleurs (Ariane, Phèdre, Vierges, Éphèbes, Guerriers, Matelots)

Act II
14 Prélude et Scène : La nef sur l'onde lisse (Pirithoüs, Phéréklos, Eunoé, Chromis, Chœur)
15 Scène : Puis Athènes luira (Ariane, Thésée, Pirithoüs, Eunoé, Chromis, Matelots)
16 Duo : Mais je n'ai pas rêvé ? (Ariane, Thésée)
17 Arioso et suite du Duo : Il me semble (Thésée, Ariane)
18 Air : Sais-tu combien je souffrirai (Ariane)
19 Arioso et Scène : Quand Hercule eut conquis (Thésée, Ariane, Phèdre)
20 Tempête : C'est la tempête ! (Phèdre, Eunoé, Chromis, Pirithoüs, Phéréklos, Les Enfants)
21 Scène finale : Et c'est vers Naxos (Ariane, Thésée, Phèdre, Pirithoüs, Chœur, Sirènes)

CD 2

Act III
01 Prélude
02 Monologue : Là-bas, la vierge sauvage (Thésée)
03 Duo : Où vas-tu, Roi ? (Thésée, Pirithoüs, Ariane)
04 Scène : Thésée ! (Ariane, Les Vierges)
05 Air : Ariane ! (Eunoé, Ariane, Les Vierges)
06 Entrée de Phèdre : É ! ô ! é ! ô ! é ! Curée !... (Phèdre, Ariane, Chœur)
07 Duo : Hélas ! il me donna l'espoir (Ariane, Phèdre)
08 Air et Scène : Tu lui parleras, n'est-ce pas ? (Ariane, Phèdre)
09 Air : Oui, j'accomplirai cette tâche sacrée (Phèdre)
10 Duo et Arioso : Phèdre ! (Thésée, Phèdre)
11 Duo – suite : Non ! Je ne peux pas (Thésée, Phèdre)
12 Arioso et fin du Duo : Ô Vierge guerrière (Thésée, Phèdre)
13 Scène : Ciel ! (Phèdre, Thésée, Ariane)
14 Arioso et Scène : Exécrable Aphrodite (Phèdre, Ariane)
15 Air : Ah ! le cruel ! ah ! la cruelle ! (Ariane)
16 Scène : Eïa ! Eïa ! Eïa ! (Ariane, Pirithoüs, Vierges, Chœur)
17 Air : Au val qui se hausse et décline (Pirithoüs, Ariane)
18 Scène et Cortège funèbre : Horreur ! (Ariane, Pirithoüs, Thésée, Chœur)
19 Pantomime
20 Arioso : Chère Cypris, Cypris compatissante (Ariane)
21 Duo : Qu'implores-tu, jeune reine affligée (Cypris, Ariane)

CD 3

Act IV
01 Prélude et Lamentations : Ah ! Hélas ! (Les Âmes, Les Vieillards, Les Compagnes)
02 Air : Hélas ! avant que le dieu noir (Perséphone)
03 Scène : Je suis la Majesté blafarde (Perséphone, Les Compagnes)
04 Entrée des Nymphes : Mais, qu'est-ce ? (Les Compagnes)
05 Duel des Furies et des Grâces : Avec leurs gestes d'or (Perséphone, Chœur)
06 Scène : Mais, toi, que veux-tu ? (Perséphone, Ariane)
07 Air des Roses : Ah ! Emmène ta soeur ! (Perséphone)
08 Scène : Je ne veux pas revivre ! (Phèdre, Ariane, Perséphone, Les Compagnes, Les Âmes)

Act V
09 Prélude et Scène : Pirithoüs ! (Le Chef de la Nef, Pirithoüs, Thésée)
10 Duo : Phèdre ! Ariane ! (Thésée, Pirithoüs)
11 Ensemble et Scène : Ariane ! oui, mais non point seule ! (Ariane, Phèdre, Thésée, Pirithoüs)
12 Scène : Venez, enfants ! Je n'ai plus de pleurs (Ariane, Phèdre, Thésée, Pirithoüs)
13 Scène et Air avec chœur : Ils mentaient ! (Ariane, Sirènes)