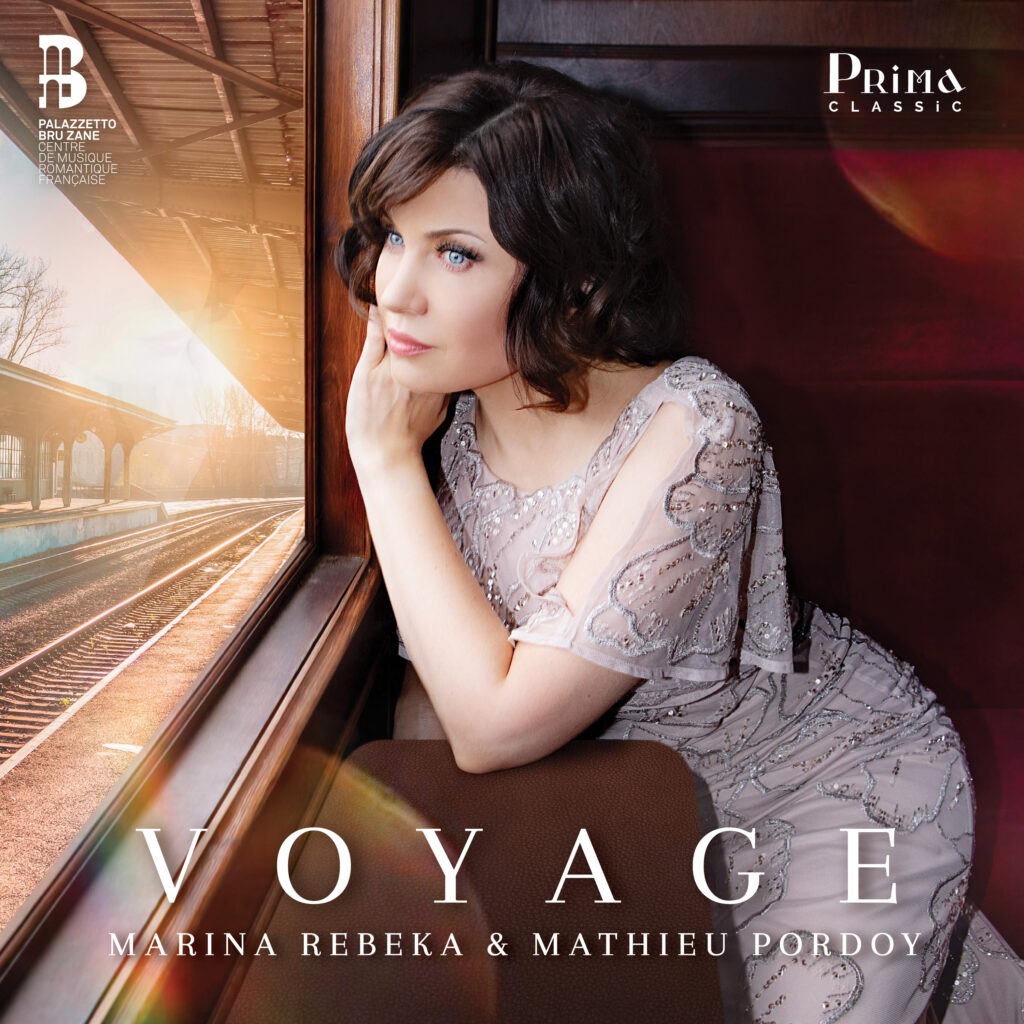 Henri Duparc, Cécile Chaminade, Marie Jaëll, Maurice Ravel, Camille Saint-Saëns, Charles-Marie Widor, Gabriel Fauré, Charles Gounod, Pauline Viardot
Marina Rebeka soprano
Mathieu Pordoy pianoforte
Prima Classic
Con il sostegno del Palazzetto Bru Zane
An invitation to travel with the flair of 19th century chamber music, written by French composers, female and male, sung in French, Italian, German, and Russian.
Most of the mélodies in this recital were composed between 1860 and 1890, that is to say on the threshold of the Belle Époque and the Second Industrial Revolution. Behind the mirage of national identities, we will perceive a European context conducive to dreams of escape and a cosmopolitanism embodied by great musical figures, such as Henri Duparc, Cécile Chaminade, Maurice Ravel, Camille Saint-Saëns, Charles-Marie Widor, Gabriel Fauré, Charles Gounod, and the extraordinarily talented female composers Marie Jaëll and Pauline Viardot.
Marina Rebeka and Mathieu Pordoy approach this eclectic repertoire using a rainbow of musical colors, succeeding indeed in capturing the very essence of each piece. An exquisite album for the musically curious and the armchair traveller alike.
Update Required
To play the media you will need to either update your browser to a recent version or update your
Flash plugin
.
1- Henri Duparc: L'invitation au voyage
2- Cécile Chaminade: Chanson slave
3- Marie Jaëll: Rêverie
4- Maurice Ravel: La Flûte enchantée
5- Camille Saint-Saëns: Désir de l'Orient
6- Charles-Marie Widor: Chanson indienne
7- Gabriel Fauré: Les Roses d'Ispahan
8- Charles Gounod: Perché piangi?
9- Camille Saint-Saëns: La Madonna col bambino
10- Camille Saint-Saëns: Alla riva del Tebro
11- Charles Gounod: Oh! Dille tu!
12- Pauline Viardot: L'Innamorata
13- Marie Jaëll: Dein
14- Marie Jaëll: Der Sturm
15- Marie Jaëll: Die Vöglein
16- Marie Jaëll: Ewige Liebe
17- Marie Jaëll: Die Wang' ist blass
18- Pauline Viardot: Синица [La Mésange]
19- Pauline Viardot: Ива [Le Saule]
20- Pauline Viardot: Серенада [Chant du soir]
21- Pauline Viardot: Цветок [Fleur desséchée]
22- Pauline Viardot: Шёпот, робкое дыханье [Aurore]
23- Pauline Viardot: Заклинание [Évocation]