Pelléas et Mélisande
cent ans après: études et documents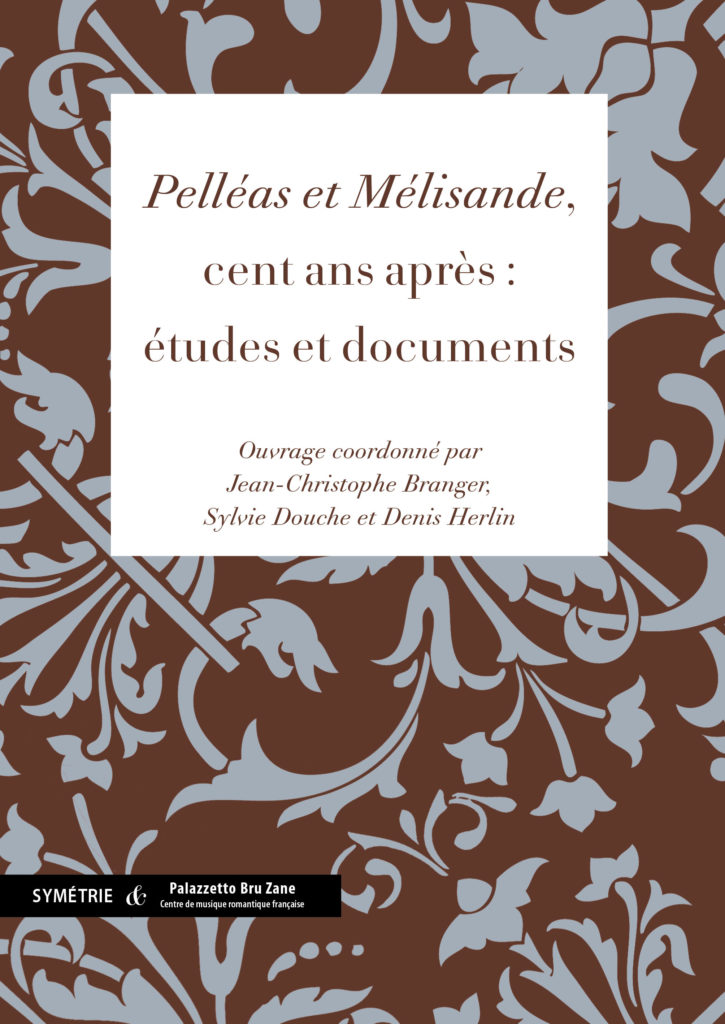 Jean-Christophe Branger, Sylvie Douche, Denis Herlin
Ever since its first performance in 1902, Pelléas et Mélisande has fascinated and inspired composers, performers and music-lovers alike, without yielding up all its secrets. As Debussy himself once remarked, 'the beauty of the work of art will always be a mystery, that is to say, one will never be able to work out "how it's done".'
His only opera rightly remains a unique landmark in the history of opera, but the work did not immediately gain broad acceptance, because of features that sometimes disorientate the listener even today. At the dress rehearsal on 28 April 1902 and at the première two days later, the public was in uproar. However, the controversial climate of the première acted as an extraordinary driving force in the dissemination of the work, which has remained in the repertoire to this day, not only in France but also in other countries around the world. The popularity of Pelléas et Mélisande has never waned, considerably changing the image of Debussy, a composer who had previously been known only to small coteries: the author of Pelléas became a major figure in the world of music but also in the history of opera, paradoxical though that may seem for the author of only one complete operatic work.
The time has come to re-examine the immediate reception of the work and its astonishingly abiding popularity, to shed new light on its concepts, and to define its place in the repertoire and in the minds of contemporary musicians.
Jean-Christophe Branger
Jean-Christophe Branger has a doctorate in musicology and is a lecturer in that subject at the University of Saint-Étienne. His research focuses on French opera under the Third Republic and, more specifically, on the works of Jules Massenet.

Sylvie Douche
After studying musicology at the Sorbonne and the Paris Conservatoire, Sylvie Douche obtained a doctorate in art history and comparative literature (at Paris-I Panthéon-Sorbonne and Paris-IV Sorbonne, respectively). She is now a lecturer at the Sorbonne. She is interested in the connections between music and literary texts (articles on the French mélodie) and her publications consist mainly of writings on French music of the nineteenth and twentieth centuries; she recently worked as editor on a book devoted to Maurice Emmanuel. Her research also takes in the piano repertoire of the same period and interpretative studies.

Denis Herlin
Director of Research at the IRPMF (Institut de recherche sur le patrimoine musical en France), Denis Herlin is the author of three catalogues, devoted to the François-Lang music collection (1993), the music collection of the Versailles Library (1995) and the Hanson-Dyer music collection (2006), a series of articles on French Baroque music and on the works of Claude Debussy, and also of several critical editions, including Rameau's Pièces de clavecin en concerts (1996, with Davitt Moroney) and Debussy's Nocturnes (2002). Editor of the complete works of Debussy (Œuvres complètes) since 2002, he has also published, with François Lesure, an edition of the composer's general correspondence (2005) and, with Sylvie Bouissou and Pascal Denécheau, the first two volumes of a thematic catalogue devoted to the works of Jean-Philippe Rameau (Catalogue thématique des œuvres de Jean-Philippe Rameau).